Ready to look, feel and age younger?
In order to build organizations and the products and services requisite to regenerate Earth, we need health first. It takes energy and tenacity to climb the transformational mountain and endure.
Those of you familiar with my work know I'm grateful to have Dr. Sara Gottfried in my life. Not only is she my brilliant, talented and beloved wife, she's also a board-certified doctor and a three time New York Times best-selling author, whose work is dedicated to helping others learn how to make functional medicine a regular part of a healthy, high-quality, longer-lived life.
Her most recent best-selling book, YOUNGER, offers breakthrough ways to:
Reset "bad" genes

Reverse the aging process

Turn back the cellular/biological clock 10-years (or more!)
Since I have an inside connection, I scheduled an interview with Dr. Sara after her most-recent book publication to learn more about her research and to find out how you and I can GET YOUNGER!
You can listen to the entirety of our interview at Regen360 Podcast #20.
Your Cellular Age is Probably Older than Your Chronological Age
To begin, Dr. Sara shared how five years ago she ran a simple blood test of her telomeres. She explains, "…those are the little caps on the chromosomes that measure how much you're aging – so it measures cellular aging, it measures your biological aging – as opposed to your chronological aging…I failed the test."
At age 44, Dr. Sara had the telomeres of a 64-year old woman. She considers this a turning point in her life, recognizing a biological failure state that needed to be addressed.
"Here I was a doctor – board certified in gynecology – and I didn't know that cortisol was shrinking my telomeres, increasing my risk of cancer, increasing my risk of belly fat and diabetes…The foundation of your hormones and the next step is to address these levers of growing younger."
Health Span vs Disease Span
The goal of functional medicine and healthy lifestyle changes is to increase your health span and decrease your disease span. Dr. Sara explains, "health span" is that period of time where you feel fantastic," compared with the "disease span," which encompasses cognitive decline and/or Alzheimer's disease, heart disease, diabetes, the onset of cancer(s), etc.
When you pay attention to key markers and benchmarks indicating our overall health – and then make changes to support the good ones and reverse the bad ones – you will literally, "take what you feel in your prime and lengthen that as long as possible."
Doctor's Quick Tip: "Eating leafy greens [kale, chard, bok choy, broccoli, cabbages] adds 7.5 more years to your lifespan." Dr. Sara recommends we eat one pound of vegetables each day.
Turn On the Good Genes & Turn Off the Bad Genes
"20 years ago, I was taught that you're stuck with the genes you've got. What we've learned is…you can actually change the way your genes talk to the rest of your body."
Dr. Sara likes to highlight the 90/10 rule; the study of epigenetics proves that while 10% of who and what you are is based on the genes you were born with – 90% of your overall health and risk of developing degenerative diseases is due to the little decisions you make each day. This includes what you eat, how you feel about yourself, how much you move, the level of stress (cortisol) you take on in your life, etc.
When you make healthy choices, you literally reverse the degenerative aging process and add years to your life – expanding your health span, so you spend years, or even decades more, feeling fantastic.
Take Control of the Genes Most-Proven to Have Epigenetic Influence
After reviewing roughly 2500 different studies, Dr. Sara focused on the genes that were most-proven to have an epigenetic influence on the biological markers of aging – and which genes really control your health span.
Doctor's Quick Tip: Take Dr. Sara's Younger Quiz to identify your base-case. Then use the results to make simple, relevant and life-extending changes for a healthier, vibrant and longer, high-quality life.
You Can Change the Levers of Aging
Here are Dr. Sara's answers to the root question: "what are the levers of aging and how can we change them?"
Silence the Fatso Gene. By exercising moderately, 30-minutes per day, you can silence the "fatso gene" (FTO gene).
Decrease stress.

Lowering cortisol rates decreases blood sugar levels – reducing belly weight and diabetes risk.

Get enough sleep

(the functional medicine panacea). Only 3% of the population has the short-sleep gene. The rest of us need 7- to 8.5-hours of sleep per night – on your side as much as possible – to activate the

glymphatic system

.

Keep vitamin D levels between 60-90 ng/ml. This will support healthy sleep habits, among other, multiple physiological benefits.
Take sauna baths

. If you can't afford to purchase a home sauna unit,

hit the sauna

at your local gym. Saunas activate the

FOX03

(longevity) gene and get cardio-rates up. A study published in the

Journal of the American Medical Association

showed a 40 percent drop in mortality for frequent sauna visits.

Test for APOE4 (Alzheimer's gene). If you have an APOE4 marker(s), use

Dr. Bredesen's Functional Medicine protocol

to silence it. I suggest you not only listen to my podcast with Dr. Bredesen, but buy his revolutionary book:

The End of Alzheimer's.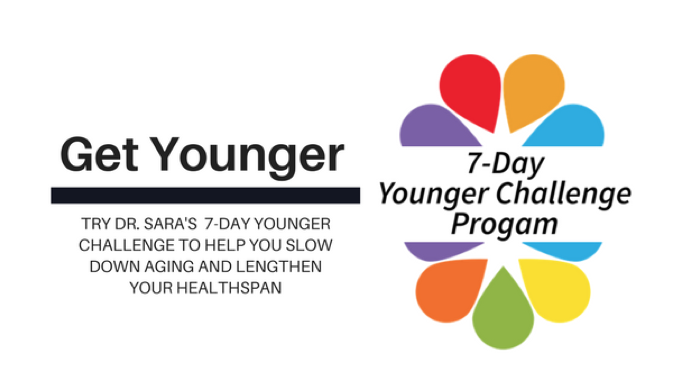 It's important to remember that we're all very different, so there's no one-size-fits-all answer. However, taking the key tips that resonate the most with your genes, your biological benchmarks (available through routine blood tests) and your lifestyle – you can change the levers of aging and lengthen your health span to live a higher-quality life.
Are you inspired or what? You can listen to the entire, Regen360 Episode 20 Podcast with Dr. Sara on our website, and we also recommend ordering her book YOUNGER to learn more interesting and lesser-known tips for reversing the body's genetically- and environmentally-programmed aging process.